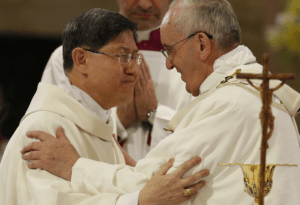 Pope Francis appointed former Manila Archbishop Luis Antonio Cardinal Tagle as one of the members of the powerful board that serves as the central bank of the Vatican.
In a Vatican announcement, Tagle also appointed Cardinal Peter Turkson of Ghana as members of the Administration of the Patrimony of the Holy See (APSA).
The said office was in charge of the properties owned by the Holy See to provide the funds needed by the Roman Curia.
Tagle is the current prefect of the Congregation for the Evangelization of Peoples, while Turkson is the prefect of the Dicastery for Promoting Integral Human Development.
In May 2020 the Pope also appointed Tagle as cardinal-bishop, the highest rank in the College of Cardinals of the Catholic Church.
He was also the youngest cardinal-bishop at age 62 and the only Asian in their ranks.